Advantages of On-Screen Take-offs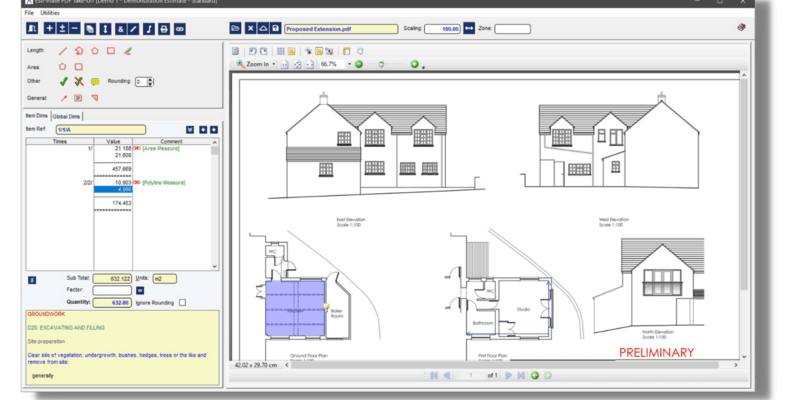 What is an On-Screen Take-off?
Using software, estimators are able to scale digital blueprints, take measurements and counts, and convert those measurements to estimated materials needed for a job.
The Builder's On-Screen Take-Off module from esti-mate allows you to take off linked measurements from PDF drawings (on screen) directly into the standard Dimensions system – and you don't need anything other than your mouse.
1. Save Time
When it comes to taking the measurements and counts for your estimate, using an On-Screen Take-off can help speed up the process. Having to physically measure or count each section on a printed blueprint can be very time-consuming and even finding the pages relevant to your trade can take hours, especially as printed blueprints can consist of hundreds of pages.
By using an On-Screen Take-off software, measurements can be taken directly from PDF drawings, saving you from having to do it manually. Esti-mate's On-Screen Take-off measures length, perimeter, area and counts items which can help you speed up your estimating process.
2. Increase Accuracy
Performing take-offs manually comes with the risk of human error. This could be misreading measurements, double counting or even hitting the wrong calculator button. This could lead to miscalculation that could throw off your measurements and could impact your overall estimate.
On-Screen Take-off software is designed to help you mitigate these risks. By automating much of the process, you remove the risk of human-error and can help ensure you have the most accurate measurements.
3. Improved Organization
Another advantage of using On-Screen Take-off software is that all measurements are stored within the system, so you don't need to store any physical documents.
Our estimating software, esti-mate, also offers the option to link measurements directly into the Dim sheet. If measurements are changed this then automatically updates the Dim sheet, without you having to do any extra work. Using an integrated estimating software such as, esti-mate, ensures all data is in one place for easy access.
Conclusion
There are clear advantages to switching to On-Screen Take-Off software when it comes to taking measurements and counts for an estimate. It can save you time, increase your accuracy and ensure all measurements are stored securely.
Esti-mate is an estimating software built by estimators, allowing you to produce more accurate estimates more quickly. With the additional On-Screen Take-Off module, esti-mate can help boost the efficiency and accuracy of your estimating process.
If you would like to see for yourself how esti-mate works, then download a free 20-day trial of the software today.